INTRODUCTION
HAFEEZ SURGICAL
was founded in 1986 in Rawalpindi-Pakistan. Since our beginning, we have evolved into a world class supplier of Surgical Instruments, Hospital Furniture, ENT Products & Electromedical Equipments. Our mission is to provide a wide selection of superior quality products at an excellent value for our customers.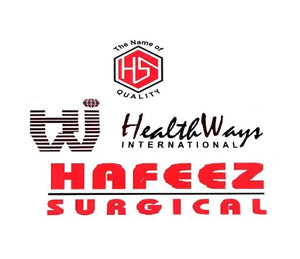 Exclusive distributors:
We M/s HealthWays International/Hafeez Surgical are the exclusive distributors of Exmoor Plastics LTD in Pakistan and Afghanistan aswell.
SUN SHOES ITALY
The production is, as it always has been, 100% Made in Italy, because quality and reliability do matter.
Accoson Bp Set UK
The new Six00 series is a premium range of aneroid sphygmomanometers offering
the clinician the highest quality at an affordable price.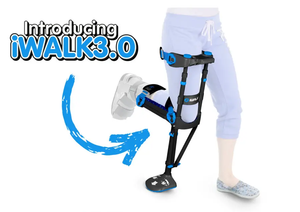 iWalk3.0 Hands Free Crutch USA
What is iWALK3.0 ....

iWALK3.0 is a crutch substitute. It will allow hands free mobility. Walking will not be as easy as before your injury, but after a short adaptation period, you can be hands free and functional during your non-weight bearing period. Some people may experience minor discomfort during use.

Hand Robotic Rehabilitation Physiotherapy Equipment
Stroke rehabilitation equipment treatment or recovery:
Cerebral palsy, cerebral infarction, cerebral hemorrhage, cerebral apoplexy, and hemiplegia and other such series of hand dysfunctions or missing, such as brain or hand nerve damage, fractures, car accident injuries, burns, Others such as hand dysfunction caused by spinal cord injury can also be used, as long as it is hand dysfunction, hand discomfort, and hand inflexibility.
Our pneumatic rehabilitation robot gloves can be used for high muscle tension, palm bending, curling, finger spasm, paralysis, paralysis, etc. Soft rehabilitation robot gloves use bionic pneumatic artificial muscles to drive finger joints, causing finger spasm, Symptoms such as paralysis and paralysis have been improved or recovered. While effectively helping the rehabilitation of various functions of the hand, the product also acts on assisting the brain nerves, promoting the improvement of sports rehabilitation, etc.
HAFEEZ SURGICAL RAWALPINDI
Muhammadia Plaza Gordon College Road Rawalpindi-Pakistan
TEL: 051-5555749, 051-5531902 
Whatsapp: 0300-0045749
Mon-Sat 11:00AM-8:30PM
Sunday-Closed
HAFEEZ SURGICAL ISLAMABAD
Chenab Plaza Jinnah Avenue, Opposite Stock Exchange & Ufone Tower,Blue Area Islamabad-Pakistan
TEL: 051-8357208, 051-8357209 
Whatsapp: 0314-5779103       
Mon-Sat 11:00AM-9:00PM
Sunday-Closed