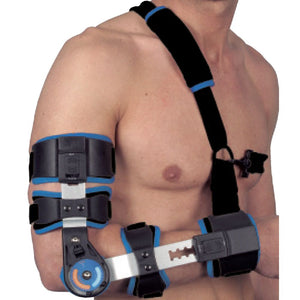 Functional Rom Elbow Brace C-202 Prim Spain
Regular price Rs.38,000.00 Sale
TELESCOPIC ROM ELBOW BRACE 
Description:
Effects:
Immobilization and adjustment of the upper limb, even when it is
needed to control or to block the flexion and extension degrees.
Indications:
Fractures, post-surgery. Pathologies where the control of the
flexo extension is required.
• Elbow brace designed to block or control the movement during the
treatment of ligamentous lesions or stable fractures. Permits the
control from 0 to 90° of extension and from 0° to 120° of flexion.
• The orthosis can be blocked in steps of 10°. Lateral extendable bar
from 36 cm to 45 cm.
• Blue and black colour.