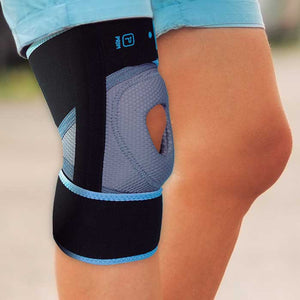 Knee Brace OST-218 Prim Spain
Regular price Rs.13,500.00 Sale
Description:
Highly-elastic and breathable technical impact fabric that adapts to the dynamics of movement, providing the patient with total comfort.
Breathable, elastic, wraparound velour fabric that enables the compression required by the patient to be adjusted at any time.
Foam pad that exerts pressure on the epicondyle, relieving pain.
• Wraparound fastening strap for easy  individualised adjustment.

Indications:
Joint pain, bursitis, tendinitis, arthritis, osteoarthritis, patellar injuries, lateral knee ligament injuries, Osgood-Schlatter disease, chondromalacia patella, patellar subluxation, post injury, post-surgical treatment.
With triangular anatomical patellar opening. Comfortable interior foam pad.
Open popliteal area for greater freedom of movement.
Medial-lateral stabilisers.
Bilateral

Available in One Size.