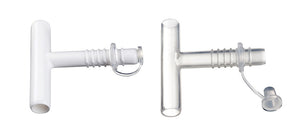 Montgomery Safe-T-Tube Standard 4200 Series 10mm to 16mm Boston U.S.A
Regular price Rs.72,000.00 Sale
PRODUCT DESCRIPTION
Intended Use:
To maintain an adequate tracheal airway, as well as to provide support in the stenotic trachea that has been reconstituted or reconstructed.
Acute laryngotracheal injuries

Intrathoracic tracheal stenosis

Reconstructed trachea

Reconstituted trachea

Tracheal stenosis when the cervical or thoracic trachea cannot be repaired

Segmental resection and anastomosis

Cervical trachea that cannot be repaired
Features

Ridges and grooves along the extra-luminal limb of the tube allow a ring washer to be attached, significantly reducing the possibility of accidental posterior displacement
Implant grade silicone, non-adherent smooth surface
Easy to insert, suction and remove, and can be used with anesthesia
Large variety of sizes
Supplied sterile. 
Packing box contains 1 Tube, 2 Plug/Ring Sets.
Standard Safe-T-Tubes™ (4200 Series)
REF

Dimensions (mm)

REF

Clear

Radiopaque

A

B

C

D

E

F

Plug/Ring Set

15 mm Adaptor

10

420010

42010R

10

50

19

23

39

8

321106

321107

11

420011

42011R

11

60

20

29

52

11

321126

321127

12

420012

42012R

12

65

23

32

50

11

321126

321127

13

420013

42013R

13

69

24

34

55

11

321126

321127

14

420014

42014R

14

71

25

35

59

11

321126

321127

15

420015

42015R

15

73

26

36

56

11

321126

321127

16

420016

42016R

16

75

27

37

65

11

321126

321127