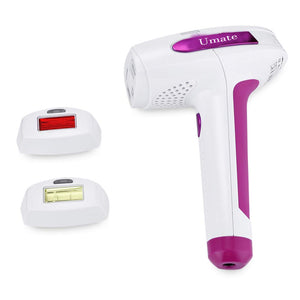 Umate IPL T006 Home Pulsed Light Hair Removal Laser Device
Regular price Rs.28,000.00 Sale
Brand: Umate

Model: T-006

T u: intense pulsed light

Power: 36 W

Application: bikini zone, face, legs

Five power modes

300,000 flashes

Country of origin: China
Epilation can be nice 

Without irritations and cuts.

Photoepilator Umate Home Pulsed Light T-006 creates a powerful beam of concentrated light that destroys the hair follicles and eliminates unwanted body hair. 

As a result, the hair simply stops growing.

What are the advantages of Umate Home Pulsed Light T-006.
Great resource : 

The resource of the device is designed for 300,000 flashes, the stock of which should be enough for 15 years of using the device.

Additional photocell: 

Included is a replaceable lamp, the use of which will extend the service life of the device.

Network operation: 

The process of hair removal will be continuous, no need to wait for the battery to charge.

Power control: 

It is possible to select the flash output for different areas of the body and face.

Affordable price: 

The cost of similar photoepilators of this level is 3-5 times higher

 .
Number of flashes: 300,000 Pulses.
Lamp replacement: The lamp does not change. Low cost allows you to purchase a new photoepilator instead of replacing the lamp.
Coverage area of ​​the treated surface: 4 square meters at a time, there is a nozzle with a coverage of 2-3 square meters
Additional nozzles: There is an additional nozzle with a smaller coverage area (for the face, bikini area, etc.)
Power adjustment: 5 power adjustment modes